Support for companies in all sectors
To those using the Business Development Center Tokyo
The Business Development Center Tokyo (BDCT) operated with shortened window hours due to the spread of COVID-19.
From Wednesday, July 1st, the opening hours will be changed as follows.
[from July 1st ] 9:30-12:00, 13:00-17:30 (weekdays)
Online consultation is still available. Please feel free to contact us by phone or e-mail.
In order to prevent the spread of COVID-19 in the Center we ask for your understanding and cooperation in the following points.
<At the time of admission>
 ○ Wear a mask
 ○ Disinfect your hands with alcohol disinfectant
 ○ Body temperature measurement (*Admission is restricted above 37.5°C)
<Communications related to management>
 ○ For the time being, we will use a reservation system for appointments to consult in the center. If you would like to consult in the center, please contact us at the telephone number or email address listed below.
 ○ To prevent splash infection, the center counselor will wear a mask, partitions have been installed at the reception desk and at each booth, and desks and chairs will be wiped off with alcohol sheets between use.
 ○ We also accept consultations online (phone, email, etc.). If you would like to contact us, please contact the following phone or email address.
【Business Development Center TOKYO(Akasaka)】
TEL: 81-(0)3-3582-8353  E-mail: support2@bdc-tokyo.org
【Business Development Center TOKYO(Marunouchi)】
TEL: 81-(0)3-6269-9981  E-mail: contactus@bdc-tokyo.org
E-mail:financial-desk@bdc-tokyo.org(Financial One-Stop Support Service)
Business Development Center TOKYO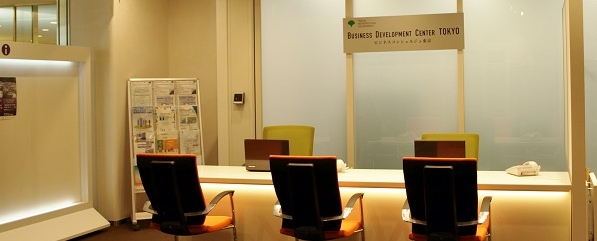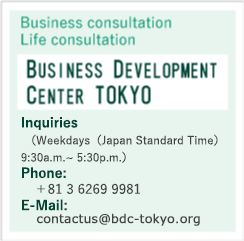 Business Concierge Services
The Business Development Center TOKYO is the Tokyo Metropolitan Government's comprehensive service for foreign companies who are considering establishing in or expanding to Tokyo, host of the 2020 Olympics and Paralympics. We offer a total support package that covers all aspects from business through to lifestyle issues. For foreign companies that plan an expansion into the Special Zone for Asian Headquarters in particular, we provide both business exchange support and specialized consulting services. Through such activities, we strongly back the development of business in Japan's capital city.
Consultation Flowchart
At the Business Development Center TOKYO's offices, our bilingual consultants who possess a wealth of international experience are on hand to offer face-to-face consultations. Responses to inquiries received via telephone, email and facsimile are also possible. We offer speedy, one-stop support services that are tailored to meet the desired development paths of business.
CASE STUDIES
Below are some actual examples of the support offered by the Business Development Center TOKYO
Supporting the Business Matching of a German Company Offering Cleaning Systems Technology
Overall business support in market development for Czech beer in the Japanese market
Sales channels and sales expansion, introduction of properties
Business and Lifestyle Information
The Business Development Center TOKYO provides convenient and valuable information for both establishing business in Tokyo and expanding to the city. We also provide lifestyle information. Topics about which we can provide information include how to search for specialists and business partners, the tax incentives and subsidy programs offered, the scope of corporate taxation, the types of tax paid when living in Japan, the city's Internet environment and Tokyo's climate, etc.