Provide one-stop support for start-ups until the businesses go on track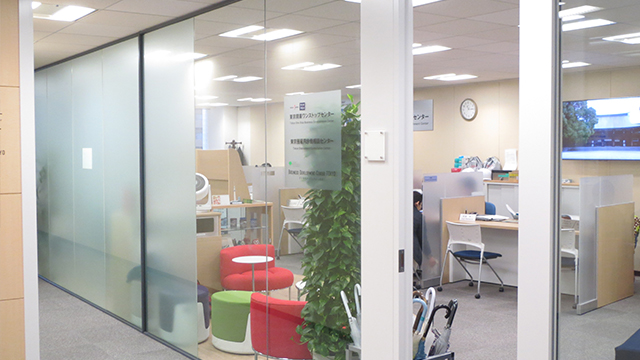 The Tokyo One-Stop Business Establishment Center unifies the procedures that foreign companies and start-ups need to complete to establish a business.
The center helps to facilitate the prompt completion of various filing procedures required when starting a business. Furthermore, to meet the needs of companies, the center also offers support for electronic applications as well as interpretation and translation services in several languages.
Affiliated facilities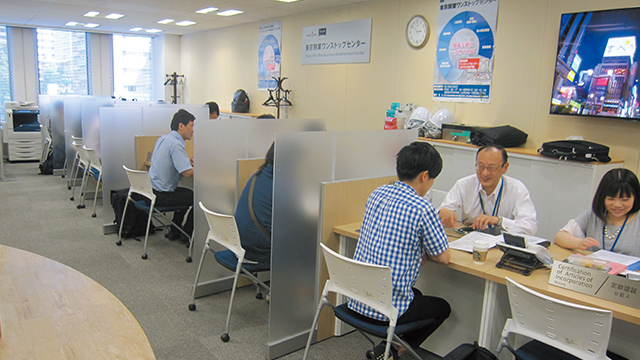 Additional facilities located on the same floor are also available to assist. Bilingual consultants at the Business Development Center TOKYO help to match foreign companies seeking to expand their business into Tokyo with business partners and handle inquires on life in Tokyo. In addition, the Tokyo Employment Consultation Center has also been established here to assist foreign companies that have just started doing business in Tokyo with accurately understanding Japanese employment rules, supporting the smooth development of business.
Duties
The center assists in the preparation of applications for Certification of Articles of Incorporation and other procedures below, and accepts the applications.
Our service covers administrative procedures regarding business establishment. (We do not provide procedures of alteration)
In Tax booth(National Tax and Metropolitan Tax) , Users may submit application forms, etc. written in English, while receiving support from interpreters or using form samples written in English.